ALFREDO BERNARDINI
– (Baroque oboe)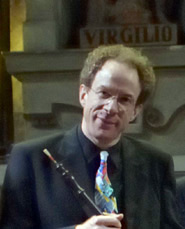 Born in Rome in 1961, Alfredo Bernardini moved to The Netherlands in 1981 to specialize in baroque oboe and early music with, among others, Bruce Haynes and Ku Ebbinge. In 1987 he received his soloist diploma from the Royal Conservatory of The Hague. He has performed all over Europe, in Russia, U.S.A., Canada, Japan, China, Korea, Malaysia, Egypt, Israel, South America and Australia as a member of prestigious baroque ensembles such as Hesperion XX, Le Concert des Nations, La Petite Bande, The Amsterdam Baroque Orchestra, Das Freiburger Barockorchester, The English Concert, Bach Collegium Japan, Balthasar Neumann Ensemble and others. He has played in more than 100 recordings. In 1989 he founded the ensemble Zefiro together with the brothers Paolo and Alberto Grazzi. His recordings with Zefiro have won important prizes such as the Cannes Classical Award and the Diapason d'Or de l'Année 2009. As a director, he has worked with orchestras in Italy, France, Germany, Spain, Portugal, Belgium, Holland, Denmark, Norway, Poland, the UK, Sweden, Canada, Australia, Israel and with the European Union Baroque Orchestra. His research on the history of woodwind musical instruments has resulted in several articles published by important international magazines. Since 1992 he teaches baroque oboe at the Conservatory of Amsterdam and also taught from 2002 to 2009 at the Escola Superior de Musica de Cataluña in Barcelona. Ha has also been guest teacher in music academies and summer courses in Italy, France, Spain, Portugal, Germany, Austria, Denmark, Israel and the U.S.A..  

PAOLO GRAZZI
– (Baroque oboe)
After obtaining the Diploma in Oboe from the Parma Conservatory at the age of 17, Paolo Grazzi undertook the study of the baroque oboe, first by himself and later with Paul Dombrecht at the Royal Conservatory of Brussels. In 1981 he obtained the "Premier Prix" with distinction from the same Conservatory in both oboe and baroque oboe, and very soon became an authority on this instrument, both as a performer and a teacher, in Italy and abroad. His appointment as baroque oboe teacher at the Civica Scuola di Musica in Milan was the first of its kind in Italy. Many players of the new generation graduated under his guidance and now play in orchestras all over Europe. As a performer, he plays regularly with the most outstanding historical instruments groups in Europe, such as "Il Giardino Armonico" directed by Giovanni Antonini and "Concert des Nations" directed by Jordi Savall. In 1989 he founded the "ENSEMBLE ZEFIRO" together with his brother Alberto and the oboist Alfredo Bernardini. Besides being much in demand as a performer, Paolo Grazzi devotes himself to researching oboes from the 18th century and to the making of copies, teaches Oboe at the Conservatory of Verona and holds specialist courses on the baroque Oboe at the Conservatory of Verona.  
ALBERTO GRAZZI
– (Baroque bassoon)Recently appointed co-principal bassoon with Concentus Musicus Wien, Alberto Grazzi has been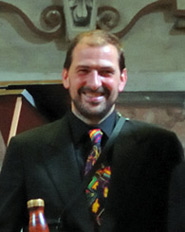 an active player on the early music scene for the last 25 years. After his studies in Reggio Emilia and in Milan and collaborations with the radio orchestra in Milan, Lugano and various opera theatre in Italy, in 1985 he was selected in order to form the European Baroque Orchestra. In 1987 he becomes member of Il Giardino Armonico for ten years and in 1990 he is appointed principal bassoon of The English Concert,  directed by Trevor Pinnock, position he still enjoys today,  touring intensively around the world  as orchestral player and soloist. In 1989, together with his brother Paolo and Alfredo Bernardini he founds Ensemble Zefiro. After more than 20 years, Alberto, Paolo and Alfredo still love playing together and their enthusiasm is still the same as in the old days. Alberto Grazzi has been baroque bassoon teacher at the Civica Scuola di Musica in Milan, the Conservatorio di Musica "E.F. Dall'Abaco" in Verona and various summer courses. From 2011 he has been appointed Baroque Bassoon teacher at the Conservatorio "G. Verdi" in Milan.